There are various factors that affect students learning – who is teaching the class? who is learning alongside each other? And also where is the learning happening? Numerous educators view the learning environment as the third teacher. A learning environment can either enhance students' comprehension by creating a safe and culturally sustaining space of exploration and reflection or it can detract students from grasping what is being taught. For the environment to serve as a third teacher, it must keep local communities in mind and reflect their cultural perspectives—an environment that promotes relationality, communication, collaboration, and exploration within the community. This week in the mentoring circle, we will learn more about the meaning of the third teacher and witness five incredible schools that completely reimagine learning environments.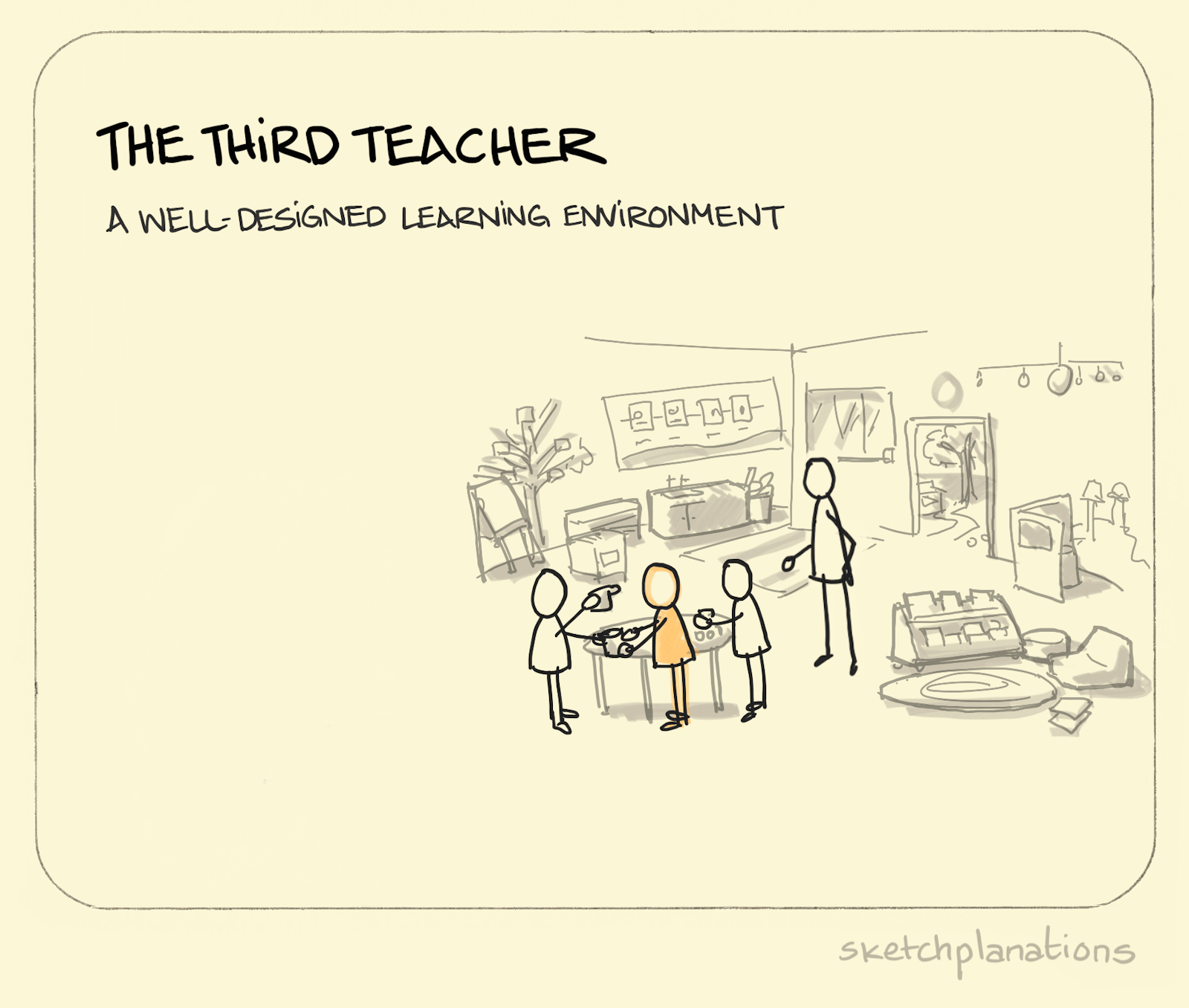 Wooranna Park Primary School in Dandenong North, Australia is a good example of transforming the environment into a culturally sustaining place. While from the outside Wooranna Park still looks boxy—constructed in the traditional, utilitarian style—inside it's a whole other story. Hallways and walls between classrooms came down, making room for creative venues and larger collaborative rooms for group work. Some learning spaces reflect the imagination of the students. One space holds a giant red dragon boat that students climb aboard for dreamtime stories from local Indigenous cultures and also for science investigations. Another space created is Starship Wooranna—a large, elaborate model spaceship with a computer lab and flight simulator— which invites astrological explorations. In the following video, Woorana Park School explains the meaning of the third teacher.
Aya7ayulh Chet (Cultural Journeys) is a Kindergarten to Grade 6 program of choice that is grounded in Sḵwx̱wú7mesh Úxwumixw (Squamish Nation) culture, language and land. In this program, students explore diverse worldviews while growing their mental, emotional, physical and spiritual selves. At Aya7ayulh Chet (Cultural Journeys) a combination of structured in-class learning, Sḵwx̱wú7mesh culture and language and land-based experiences allow students to celebrate themselves, the communities they are a part of and enjoy their learning journeys. Aya7ayulh Chet (Cultural Journeys) teachers work in/with community to create rigour and an academically challenging learning environment through relationships, honouring connections to each other, community, language and the land. Take a peek at the school by watching the following video.
Located in a beautiful green space in the city of Cusco, Pukllasunchis nurtures an alternative teaching environment looking to preserve ecological ways of living and cultivate local cultural perspectives. Founded in 1981, Pukllasunchis fosters a sensitive environment where children learn to be aware of social and ecological issues while bringing creative and unique ways of living and contributing to others and the surrounding land. Pukllasunchis is a Quechua word that means: "Let's play!" and that is the aim of the school—a nature-embracing environment where learning occurs through playful experience and direct engagement with the world outside, the community, and ourselves. This school is an admirable example of an education that is holistic and rooted in local and ancestral perspectives. Listen to the experiences of students from Pukllasunchis in the next video (translation captions required).
Green School is an international, progressive, Pre-K to Grade 12 school nurturing changemakers to make our world sustainable. Their 'living' curriculum educates for sustainability through community-integrated learning aiming to create a global community of learners that protect natural environments. The first Green School is located along the Ayung River, the longest river in Bali, and provides a holistic and green education through a model that nurtures the student, giving them agency in their own lives and learning. In 2018, Green School celebrated 10 years of disrupting education. Watch the following documentary to see how times have changed over the years and witness some of the milestones of the Green School journey. Join them in this journey and be part of the conversation on changing learning environments for the next generations.
Makoko Floating School was a prototype floating structure, built for the historic water community of Makoko, located on the lagoon heart of Nigeria's largest city, Lagos. The Makoko floating school comprised alternative sustainable buildings and structures designed to adapt to the resident communities' aquatic lifestyles. The floating school utilized local materials such as bamboo, timber and resources to produce architecture that applied to the physical, and social needs of people while also reflecting the culture of the community. Unfortunately, the school was abandoned at the beginning of 2016 over safety concerns and collapsed in a storm in June later that year. Architect Kunlé Adeyemi was inspired by the attitude of the slum's residents to design and build Makoko Floating School. In the following video, he explains how he hopes this school will act as a prototype for dealing with housing shortages and climate change.