Last year, the federal government passed legislation to mark September 30 as the National Day for Truth and Reconciliation. This National commemoration is designated as an opportunity to honour residential school survivors, their families, and communities, and acknowledge that the history and legacy of residential schools remains a vital component of the reconciliation process. This Friday, join UBC's intergenerational march to commemorate Orange Shirt Day which aims to be educational and supportive to the Indigenous community on campus and beyond. Educational activities will allow younger participants to connect with the original inhabitants of the land and honour the National Day for Truth and Reconciliation, through personal reflection and wearing an orange shirt!
For the last 9 years, September 30 has been observed as Orange Shirt Day, a movement to recognize the colonial legacy of residential schools and commit to the ongoing process of reconciliation. Next Friday, join us and hundreds of others across Canada to honour the children who survived the Indian Residential Schools and remember those that didn't by wearing an orange shirt. The Orange Shirt Day project has worked towards the recognition of the harm of the residential school system. It is a symbol to show reverence to residential school survivors, an affirmation of our commitment to ensure that every child around us matters. Orange Shirt Day is an opportunity for people, schools and communities to come together in the spirit of reconciliation and hope for generations of children to come.
Why Orange Shirts?
Orange Shirt Day is a legacy of the St. Joseph Mission residential school commemoration event held in Williams Lake, BC, Canada, in May 2013. It grew out of Phyllis Webstad's story of having her shiny new orange shirt taken away on her first day of school at residential school. Orange Shirt Day recalls the experience of residential school Survivor Phyllis Webstad, who at six was stripped of her shiny new orange shirt on her first day attending the St. Joseph Mission Residential School. Phyllis Webstad told this story for the first time during the event as an opportunity to remember the atrocious aspects of residential school in the Cariboo. As a result, Cariboo Chilcotin School District No. 27 was chosen by the First Nations Education Steering Committee (FNESC) to pilot curriculum changes reflecting the residential school experience. Every September 30th is a call upon humanity to listen with open hearts to the stories of survivors and their families and to remember the tragic loss of many others. Start by listening to Phyllis'  story below.
Phyllis Webstad is Northern Secwepemc (Shuswap) from the Stswecem'c Xgat'tem First Nation (Canoe Creek Indian Band). She comes from mixed Secwepemc and Irish/French heritage, she was born in Dog Creek and lives in Williams Lake, BC. Today, Phyllis is married, has one son, a step-son and five grandchildren.  She is the Executive Director of the Orange Shirt Society, and tours the country telling her story and raising awareness about the impacts of the residential school system. She has now published two books, the "Orange Shirt Story" and "Phyllis's  Orange Shirt" for younger children.
Why September 30th?
The date was chosen because it is the time of year in which children were taken from their homes to residential schools, and because it is an opportunity to set the stage for anti-racism and anti-bullying policies for the coming school year. It also gives teachers time to plan events that will include the true history of Canada and ensure that schools are passing the Orange shirt story and learning on to the next generations. The organization Orange Shirt Day has created digital resources and supplies to assist with understanding & planning of Orange Shirt Day, it also created digital teacher resources that can be embedded in daily lesson plans. Wearing an orange shirt and promoting the slogan, Every Child Matters is an affirmation of the commitment to raise awareness of the residential school experience and to reflect on our hope for a better future in which all children are empowered. Let's remember to respect and honour every student on September 30th.
What can you do?
Every Child Matters! Orange Shirt Day is a day for survivors to be reaffirmed that they matter, and so do those that have been affected. The annual remembrance on September 30th opens the door to a global conversation on all aspects of residential schools. The event was designed not only to commemorate the residential school experience, but also to witness and honour the healing journey of the survivors and their families, and to commit to the ongoing reconciliation process. To commit to this process you can start by enrolling in Reconciliation Through Indigenous Education starting September 29, 2022. This 6-Week Massive Open Online Course (MOOC) will help you envision how Indigenous histories, perspectives, worldviews, and approaches to learning can be made part of the work we do in classrooms, organizations, communities, and our everyday experiences in ways that are thoughtful and respectful. In this course, reconciliation emphasizes changing institutional structures, practices, and policies, as well as personal and professional ideologies to create environments that are committed to strengthening our relationships with Indigenous peoples.
All Teacher Candidates are invited to participate in The Orange Shirt Project to acknowledge the impact of residential schools on Indigenous people in Canada. In the spirit of Truth and Reconciliation, this project provides an opportunity to stand with Indigenous people and recognize their loss and pain. It is also offered as a way of healing. The Tiny Orange Sweater Project, initiated by Jennifer Kent Symons on Facebook in summer 2021 now has 448 members across Canada. Lorrie Miller and Shannon Leddy have participated in this project and were inspired to develop a related project here at UBC. The Orange Shirt Project at UBC is hosted by Department of Curriculum & Pedagogy. This is an invitation to contribute by providing your version of a shirt or sweater in orange that can be added to an art installation in the Scarfe Building at UBC. Your handmade contributions to the Orange Shirt Project can be sent to:
Lorrie Miller
Orange Shirt Project
Department of Curriculum & Pedagogy
2125 Main Mall, Vancouver, BC V6T 1Z4
Contact:  Dr. Lorrie Miller lorrie.miller@ubc.ca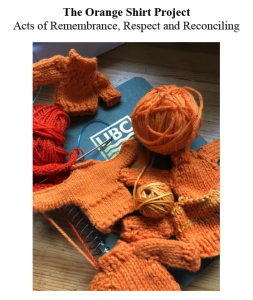 A beautiful exhibit that tells the story of a residential school survivor is Bea Silver Lexeywa Art Activism. The students of Robert Bateman's Art Activism initiative at The University of the Fraser Valley invite us to witness their current work which visually narrates the life story of Bea Silver; a prominent Elder, educator, leader and residential school survivor. Lex̱éywa – "Torch" calls us to consider the history and impact of residential schools on a national level, as well as on a local scale, as viewers move through a circular exhibition. 20 large-scale paintings paired with audio recordings relay her story chronologically, uncovering an individual experience that speaks to the lasting impact of residential schools, as well as universal truths, struggles and ultimately, the resilience of one exceptionally strong survivor of this history we all share.​ Learn more about it below!
The orange shirt taken from one child, is a symbol of the many losses experienced by thousands of students, and their families and communities, over several generations including loss of family, language, culture, freedom, parenting, self-esteem and worth. It reminds us of the painful experiences of abuse and neglect children suffered. Wearing orange shirts is a symbol of defiance against those things that undermine children's self-esteem. It is an opportunity to create meaningful discussion about the impact of colonialism and the impacts it created. A discussion all Canadians need to tune into to create bridges towards truth and reconciliation. Post pictures of your orange shirt, the event or activity you attended, share your story, or simply enjoy others sharing theirs. On September 30th we wear orange!