Yellowhead Institute is an Indigenous-led research and education centre based in the Faculty of Arts at Toronto Metropolitan University. The Institute privileges Indigenous philosophies and amplifies Indigenous voices that provide alternatives to settler colonialism in Canada today. Rooted in community networks, Yellowhead fosters education and dialogue on Indigenous issues across fields of study, between the academy and the wider community, and among Indigenous peoples and Canadians. The Institute generates critical policy perspectives in support of Indigenous self-determination and Land Back. This week in the mentoring circle, we look into critical and accessible digital resources offered by Yellowhead Institute to support the reclamation of Indigenous land and life.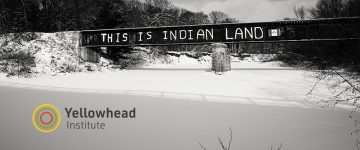 The relationship between Indigenous peoples and Canadians has been characterized by old, paternalistic, and racist policies, and corresponding apathy and neglect. Yellowhead Institute plays an important role by holding governments accountable, advocating for the rights of Indigenous peoples, and developing models of change that support Indigenous futures. With an accessible platform for grounded perspectives and compelling ideas on Indigenous issues in Canada, Yellowhead is committed to supporting Indigenous peoples' ability to organize and mobilize to protect their rights. In the video below, First Nation land defenders and leaders share their experiences with injunctions in Canada and the impact this legal tool has in legalizing the forced removal of Indigenous peoples resisting development or extraction on their lands.
In October 2019, Yellowhead Institute released its first Red Paper, Land Back. The project of land back is about reclaiming Indigenous jurisdiction: breathing life into rights and responsibilities. This Red Paper is about how Canada dispossesses Indigenous peoples from the land, and in turn, what communities are doing to get it back. Land Back breaks down the current status of land dispossession in Canada, focusing on alienation through resource extraction. Also, it examines various forms of redress, and recognition, and ends with examples of reclamation — meaningful Indigenous economies outside of state policies and legislation. In the following video, First Nation land defenders reflect on what #landback means to them and share insight on how people can enact #landback.
Picking up from Land Back, the first Red Paper by Yellowhead about the project of land reclamation, the second Red Paper looks at how the dispossession of Indigenous lands nearly destroyed Indigenous economic livelihoods and created a dependency on the state due to this loss. Cash Back is about the value of Indigenous lands and restitution from the perspective of stolen wealth. This video was created as part of the Yellowhead Institute Cash Back Red Paper project – The Indian Trust Fund is an account that holds all the money collected, received, or held by the Crown for the "use and benefit" of First Nations. There is significant confusion, mythology and a lack of clarity around this fund. This video provides a short history and explanation of how the fund came to be.
Cash Back exposes how dispossession, debt, and discrimination have been constructed, created, and justified over the past 150 years. This report is focused on cash and the different roles it has played in this colonial country. The following resource was also created as part of the Cash Back Red Paper project. Narrated by Lily from Super Duper Strong Medicine Moose Man First Nation, this short animated video shows how migration to the city from the reserve is driven by the need for greater economic opportunities, but so hard for young families to survive in expensive, harsh urban conditions without the same access to education and money as others. Dubbed the "feminization of poverty" by scholars, this video reminds us that economic justice for Indigenous peoples belongs in the city, too.
Yellowhead Institute provides open-source tools and resources, that accompany their research and publications. Indigenous Girlhood: Narratives of Colonial Care in Law and Literature is a digital short film adaptation based on Dr. Megan Scribe's (Ininiw, Norway House Cree Nation) doctoral research. This four-minute animated short film explores what it means for Indigenous girls to come-of-age in state custody within a settler colonial society, as well as examining the ways these experiences are subsequently narrated in legal and literary forums. This multidisciplinary work invites scholars from across disciplines to establish new linkages between gender, age, and settler domination while also critically reflecting on how these knowledges are disseminated to diverse audiences.