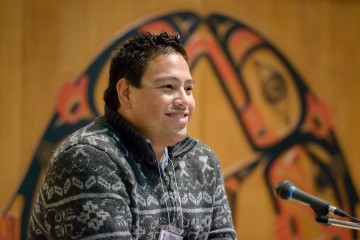 My name is Perry Smith. I am Shuswap from the Bonaparte First Nation in Cache Creek British Columbia. I graduated from NITEP in 2000. I have been fortunate to have worked in the Abbotsford School District since graduation. Though I began my career teaching Grade one at Terry Fox Elementary, I quickly joined the district's Aboriginal department as a Helping Teacher. I thoroughly enjoyed my work as a helping teaching which included cultural integration, co-teaching with classroom teachers, and mentoring vulnerable youth. In 2004, I was appointed District Vice Principal of Aboriginal Education. In 2006, I was appointed District Principal of Aboriginal Education.
Working to promote Indigenous education and support our Aboriginal students has been an honour and a privilege. In the last 14 years I have been blessed to have worked with wonderful students, families, and staff that have journeyed through the education system. Though not all of my stories are joyful, each of my stories, as an Indigenous educator, has formed who I am. I am stronger, more resilient, and more aware of my own identity because the work I have done in the education field.
To all of my colleagues and future colleagues in Indigenous education, I wish you strength and great fortune in your journey. The work you do individually will have a greater impact on the collective than you will ever know.
Perry Smith